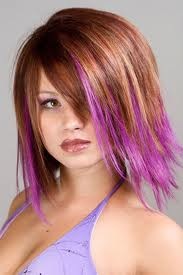 We aim to remain in the forefront of the latest styles and techniques, ensuring our customers can always count on each stylist at Touch of Class to offer them something new and exciting!!

We are dedicated to consistently providing high customer satisfaction by rendering excellent service, quality products, and furnishing an enjoyable atmosphere and an acceptable price/value. We will also maintain a friendly, fair, and creative work environment. We will supply services and products that enhances our clients physical appearance and mental relaxation.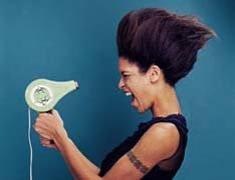 Our Services:
HAIR
Wash & cut: Hair must always be cut to be kept fresh, with the help of getting rid of the dead/split ends.
Shampoo sets and styling - includes shampoo and roller set or curling iron set
Up-dos - proms, weddings, and special occasions, We offer a practice run for a small fee
Perms - curly, body waves, spiral curls, or partial perms - includes shampoo and blow dry
Color - All over, multi-dimensional( low lights/high lights)
Hair Reconditioning Treatments - Deep conditioning for damaged, dry hair to put the moisture and protein back into the hair to create shine in dry, dull and brittle hair
Purify treatment - Rids the hair of chlorine, hard water deposits, medication and plastic build-up
Protein Smoothing Treatment - using surface organic line to smooth (straighten), reduce curls, or just eliminate frizz, this is unlike any other straightening system. The curl generally reverts back, lasting anywhere form 4 to 6 months.
Men's Color - Phase out the gray professionally in 10 minutes. It's a subtle color that brings out the pepper in salt and pepper hair with low maintenance results
Other Services
Ear piercing - We use the Studex piercing system
Waxing - Brows, chin, upper lip, etc.
Sugaring - The ancient art of hair removal, using a 100% natural sugar paste. Sugaring only removes hair and dead skin cells and leaves the skin soft and smooth. Anywhere you don't want hair we can sugar.
Lash Lift and Tint - Lash Lift is a semi-permanent treatment that gives your natural lashes an illusion of perfectly curled lashes with added definition. It is a great alternative to eyelash extensions, as it requires very little maintenance and has long lasting results.
WHO'S A GOOD CANIDATE FOR A LASH LIFT?
1. A person who doesn't want to wear mascara.
2. A person who doesn't want to curl their lashes.
3. A person who likes the volume of their lashes but wishes they were curlier.
WHAT IS THE LASH TINT? The Lash Tint gives your lashes a long-lasting mascara effect without the hassle of smudging, running, or clumping lashes. We offer three different shades: light brown, medium brown, and blue/black (darkest black).
WHO WOULD BE A GREAT CANDIDATE FOR THE LASH TINT? Clients with blond, red, or light brown lashes. The dye is applied to the lashes to give it a darker, enhanced mascara look.
HOW LONG DOES THE LASH LIFT AND TINT PROCEDURE TAKE? The procedure takes approximately 45-60 minutes for the lift and an additional 20 minutes for tinting.
WILL IT DAMAGE MY NATURAL LASHES? No, a certified and trained Lash Lift specialist will perform the procedure with proper care and technique.HOW DO I NEED TO PREP FOR THE TREATMENT? PLEASE ARRIVE TO YOUR APPOINTMENT COMPLETELY FREE OF EYE MAKE UP! Also, you must stop usage of waterproof mascara at least 2 days prior to your Lift! If you wear contacts, they must be removed.
WHAT IS THE MAINTENANCE WITH THE LASH LIFT AND TINT? This procedure requires very little maintenance and is perfect for anyone that doesn't have time for regular upkeep. The Lash Lift will last 6-10 weeks, the Lash Tint will last 6 to 8 weeks, depending on your lash cycle. Please note that lash serums, biotin, and/or medication(s) can affect the lash cycle, resulting in quicker lash shedding.
WHAT SHOULD I AVOID AFTER MY LASH LIFT AND TINT? Avoid getting your lashes wet for the first 24 hours. Avoid steam rooms and saunas; overall, refrain from all heat. After 24 hours, you may go about with your daily routine. The Lash Lift has no restrictions or maintenance like eyelash extensions.
CAN MASCARA BE APPLIED AFTER THE PROCEDURE? Allow 24 hours before applying any type of product to your lashes. After 24 hours, you may apply mascara, eyeliner, eyeshadow, or any type of makeup products you desire; it will not affect the lashes.IS THERE ANY MAINTENANCE? None at all! You don't have to do anything special with your lashes in between lifts other than giving them a good brush out daily and stay away from waterproof mascara.
WHY CAN'T I WEAR WATERPROOF MASCARA? Harsh chemicals are used in waterproof formulas in order to make them, well.... waterproof. This chemical composition is extremely drying to your lashes. Not to mention all the effort and extra tugging and pulling on the lashes to remove the mascara. To be honest, most people are not great at thoroughly removing the masacara. If that's the case, now you're running around with this super drying film of chemicals on your lashes 24 hours a day. This results in weakened lashes that are prone to breakage, and over shedding.
WHY DO I HAVE TO STOP WEARING WATERPROOF MASCARA 2 DAYS BEFORE? Pretty much for all the reasons I just stated above. If you are a regular waterproof mascara wearer, then you are already walking in my door with dehydrated and weakened lashes, which will result in a poor Lift and possible further damage.
WILL THIS DAMAGE MY EYELASHES? No, if you follow all the advice on Pre prep and Post care. The lifting solutions are only applied to the new growth area of the lashes, down towards the base and up a bit. Never to the ends of the lashes.
HAVE YOU BEEN TRAINED IN THIS SERVICE? Yes, Wendy has been trained in the Elleebana Lash Lift and Tint process
Brow Henna- The brow henna process is generally quick and easy. It should only take about 30 to 45 minutes. We generally sculpt your brow line into your preferred shape via brow mapping, then select a suitable henna shade to use. After we wax or tweeze your brows for the perfect shape. Henna powder and demineralised water are mixed together to create a paste, which is then applied through the shape of your eyebrows and allowed to soak into the skin for 15 - 30 minutes.
HOW DOES BROW HENNA COMPARE TO OTHER TEMPORARY TINTINGS? Henna is a safe and natural alternative to tints and dyes. It is vegan friendly and free from peroxide activators, making it a suitable option for anyone with sensitive skin. We find most clients prefer the Henna brows to traditional tinting as the henna is a natural product and generally produces longer lasting results.
We have found its been beneficial to those wanting better definition to their eyebrows perhaps not quite ready to tackle cosmetic tattooing or microblading eyebrows. Henna tinting is more effective for staining the skin compared with other forms of eyebrow tinting. It will appear matte and fluffier than regular tinting. Traditional hair and brow dye will tint the hairs more effectively, whereas henna successfully grips the skin.
HOW LONG DOES BROW HENNA LAST AND HOW DO YOU MAINTAIN THEM? The results of henna brows typically last between 2-6 weeks, but it's dependant on your skin type. If you have a dryer complexion, henna brows will tend to last a bit longer than they would on someone with an oily complexion.
To maintain them for as long as possible, it's important to not over-wash your face. You can also purchase conditioners and oils to help them last longer. Henna works best on clients with healthy skin. Skin conditions like psoriasis, dermatitis and eczema will mean the henna won't last as long. Freshly exfoliated skin is not ideal. The more brow hair the better – people with little hair in their brows won't see as long lasting results. Henna dye is semi-permanent but the important fact is, the skin is not. We are continually releasing oils and the renewal of skin cells, paired with environmental factors means the henna will shed as the skin does.
Wigs For Kids- A non-profit organization that provides hair pieces, products and services to kids who have lost their hair as a result of chemotherapy, radiation treatments, alopecia, burns or other medical circumstances. Your donation enables the kids so that they can continue their active lifestyles without feeling insecure about their appearance. It takes 20 to 30 ponytails or braids and $1800 to make one hair replacement system. If you or someone you know wish to donate their hair to a non-profit organization that makes wigs for children, we do take care of that here at Touch of Class. The hair MUST be clean, not chemical processed or grey and at least 12" long to be donated. We first put the hair into a ponytail and cut it off. Then we package it appropriately and send it to Wig For Kids in Ohio, where they process it and make it into a hair peice for a child.



NOTE: All of the professionals in the salon are independent artists with her or his own specialties. Prices vary according to the time needs and materials used. Please schedule a consultation for specific pricing.


Each staff member also makes their own schedule.


To Make an Appointment click on the Book Now Button below

Book Now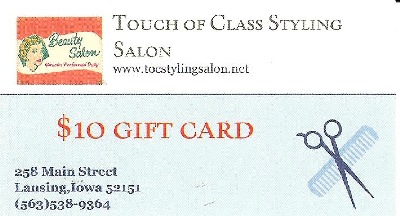 Referrals Rewards!! We have a referral program that allows you to earn FREE products and services by referring anyone who has NOT been to us before. We will give you gift cards to hand out to your family, friends and neighbors to come to our salon. This gift card is for $10 off any service. It is for clients who have NOT been to our salon. You write their name and your name on the back and give it to them and they bring the card in and you get credit for sending them to us! This ia a GREAT way to earn FREE stuff!

Gift Certificates - Gift Certificates are available from this link:
http://www.robovoucher.com/us-touchofclassstylngsalon
• Gift Certificates(Gift Vouchers) ordered through our Website will be delivered automatically by electronic means to the email address you specify at the time of order. Our Gift Certificates include unique numbers and configurable patterns.
• A Gift Certificate cannot be used to purchase a further Gift Certificate.
• When ordering a Gift Certificate, you should ensure to enter the recipient's email address correctly. We cannot be held responsible if the address is entered incorrectly and someone other than the intended recipient uses the Gift Certificate.
• Site offers and promotions (including gifts with purchase and discounts) do not apply when purchasing gift vouchers.
• Vouchers are valid for the treatments as described on the voucher and cannot be exchanged or refunded.
• All Gift Certificates are dated and expire as per the date as highlighted on the voucher
• Gift Certificates cannot be exchanged for cash.
• We are not responsible if a Gift Certificate is lost, stolen, destroyed or used without permission and no replacement will be provided in these circumstances.
• Gift certificate bookings must be made in advance and will be subject to availability

WE CARE!!!!! Style on wheels! Here at Touch of class we believe that everyone has the right to have great hair. If you have a loved one who is elderly or sick and lives in the area and cannot leave home, we will come to them. Make reservations with your specific stylist at least 48 hours in advance and we will have them looking great in no time. A small transportation fee does applies.

Call (563)538-9364 to talk to a staff member or to make an appointment.